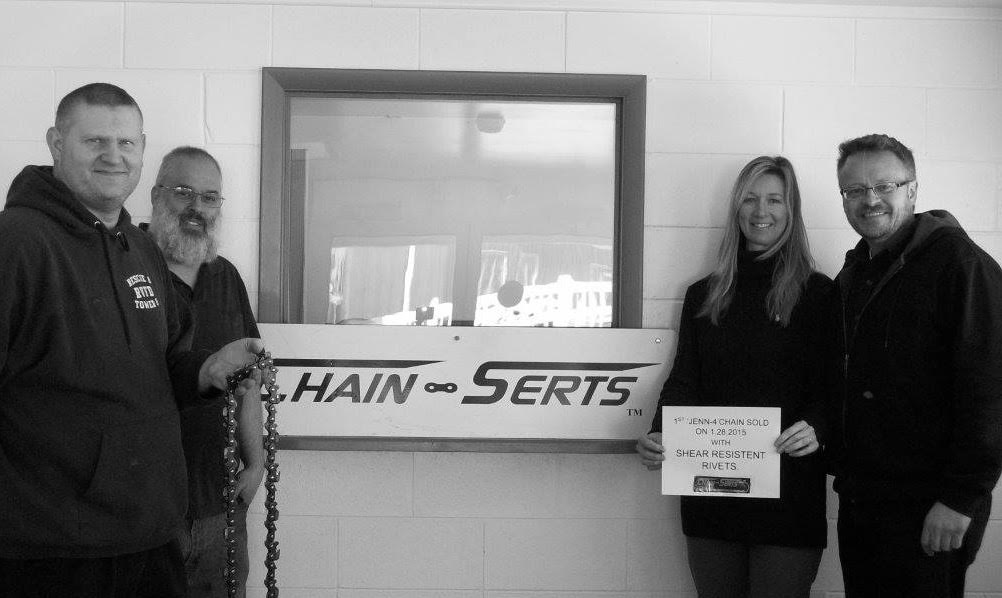 You have heard that necessity is the "mother of invention". It's especially true for Dave Szymanski, the inventor of Chain-Serts. When he was a young boy cutting firewood several miles into the woods with his father, he broke the only file to sharpen the saw chain. This ended the day of cutting with a sore bum for David. He decided then that there had to be a better way: a way that wouldn't require sending the saw chain to be sharpened or relying on your skill and file sharpener….out of this, he designed Chain-Serts™ Since that time, Dave started his own machine shop and has been in business over 26 years.
"Ultimately, the wood cutting and machining businesses are the same," said Dave. "Your machine is only as good as what cuts the wood or metal. It's all about making chips.  Why would you invest in a brand new machine, yet still use an antique cutting tool? When you are sharpening you are not cutting; therefore you are not making money. As always, time is money, and there is no time for downtime in this economy."
Why are the chains labeled 'Jenn-1, Jenn-5, etc.? After each significant improvement, Dave decided to name the chains after Jennifer, his wife, who has stubbornly kept the project going.
What's the "Chain Gang" we refer to on occasion? It's the hard-core group of four who toughed out the many years of problem-solving to make Chain-Serts a reality and continue to develop ways to cut down-time and increase profits.
Patents and Honorable Mentions:
2003 Ben Franklin Big Idea Business Plan Contest of North Central Pennsylvania
Honorable Mention for placing in the top 100 out of 4200 applicants in the History Channel's, Modern Marvels' Invent Now Challenge
U.S. Patent No. 7,836,808 B2
U.S. Patent No. 7,832,320 B2
U.S. Patent No. 8,146,474
Canada Patent No. 2,574,844
Canada Patent No. 2,497185.
Canada Patent No. 2,588,207
Chain-Serts is manufactured and assembled in the U.S.A.
Our main production facility is located 1356 N. Main St., Punxsutawney, Pennsylvania.
We can be contacted at:
814-938-1031